As a premier nursery and greenhouse, we are proud of the extensive gardens we have added to our grounds.  Every garden is designed by the owner, Josh Eddinger, with specific measurements and attention to detail, regarding each plants' individual needs.
Our current gardens will inspire your creativity.  This includes our traditional roadside seasonal garden, which showcases the vibrant colors of each season (spring, summer and fall) with the annuals you can find for purchase at Stone Post Gardens, depending on the season. The color-block style is especially effective at giving a bright punch of life regardless of location.
Also in our repertoire are two raised, stone walled, shaded hosta and fern gardens and two flanking perennial border gardens. There are a lush and colorful variety of examples on how to brighten up the hard-to-plant, shaded areas of your landscape. And the natural shading of two majestic trees gives the gardens a realistic but still beautiful charm.
Our latest garden addition is our incredible edible garden. With a structured raised bed, these gardens are a formal, yet delicious showcase for fruits and vegetables everyone can have in their garden. With a trellis-type arbor with sweet peas above, it's an escape and a functional food-source all in one!  From apples to asparagus and raspberries to rhubarb, this garden contains both perennial and annual edible plants for all seasons.
Keep on the lookout for our new and creative gardening ideas we hope to share with you!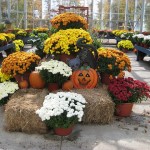 Mums the word…
Early spring pansies and hanging baskets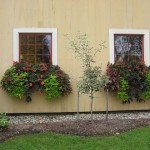 Window boxes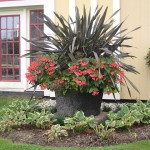 We love begonias that grow in sun or shade!
Container Gardens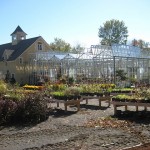 Our barn and greenhouse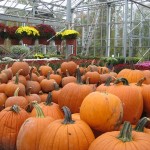 Seasonal items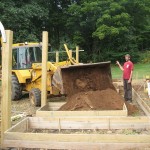 Creating Edibles Garden