Your front yard is the first thing people see when they come to your home, so you want it to make a great impression. One easy way to elevate your home's curb appeal is by incorporating rocks into your front yard landscaping.
Rocks are a versatile landscaping material that can add visual interest, texture, and personality to your yard. They come in a variety of sizes, shapes, and colors, allowing you to get creative. Rocks are also low maintenance, drought tolerant, and pair nicely with all styles of landscaping.
In this article, we'll explore 25 beautiful front yard landscaping ideas featuring rocks. You're sure to find inspiration to give your home a modern, stylish look with this classic material.
Benefits of Using Rocks in Front Yard Landscaping
Before jumping into the specific landscaping ideas, let's look at some of the top reasons you should consider using rocks in your front yard design:
Low maintenance – Rocks are an inert material that don't require regular pruning, watering, or any other care. This makes them ideal for low maintenance yards.
Budget friendly – Landscaping rocks are one of the most affordable hardscaping materials. They provide a lot of bang for your buck.
Long lasting – Rocks are extremely durable and will last for years in your landscape without decomposing. This is a big advantage over mulch and other organic materials.
Drought tolerant – Rock beds don't need irrigation. This helps conserve water, which is especially beneficial in dry climates.
Versatile – Rocks come in so many sizes, shapes, colors and textures. This versatility allows you to get really creative with your design.
Provide structure – Large boulders can act as edging for garden beds and pathways. Stacked rocks can form walls and other structural features.
WEed control – A thick layer of rocks acts as a weed barrier, reducing unwanted growth.
Low fire risk – Unlike wood mulch, rocks won't burn or pose a fire hazard.
With all these advantages, it's easy to see why incorporating rocks should be a part of your front yard landscaping plans. Now let's get into the inspiring design ideas!
1. Mix Smooth River Rocks and Weathered Boulders
This eclectic design includes a mix of rocks for visual interest. Smooth, rounded river rocks offer a colorful contrast to the weathered grey boulders. Using a variety of rocks prevents a monotonous look. The river rocks surround the tree and boulders help create separation between landscaping spaces.
2. Line the Walkway with White Rocks
For a crisp, clean look, flank a front walkway or driveway with bright white rocks. Poplar, dogwood and other ornamental trees provide vertical interest. The white rocks complement the home's exterior as well as the green lawn.
3. Use Large Boulders for Stairs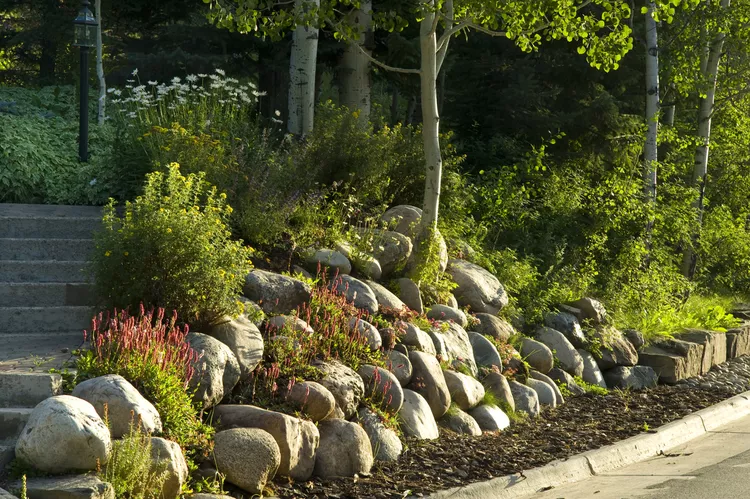 In a hilly or sloped yard, large boulders can be used to form rustic stairs leading to the front door. This helps create a walkway while also dealing with grade changes. For added safety, you can fill the gaps between boulders with small gravel.
4. Create Contrast with Red Lava Rock
Red lava rock offers eye-catching contrast when paired with emerald green grass. Use it to edge garden beds or as filler around larger boulders. The red pops against the home's neutral exterior. Evergreen shrubs and ornamental grasses add texture.
5. Line the Driveway with River Rock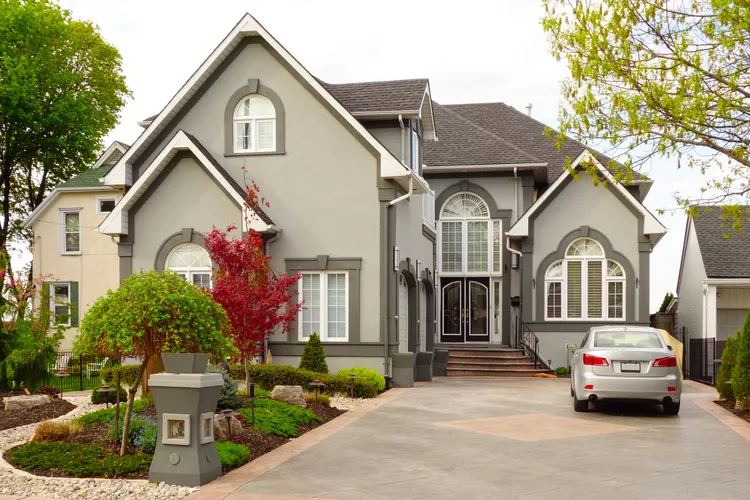 River rock comes in serene blues, earthy browns and other colors to complement your home. Using it to line your driveway and front walkway can nicely tie the hardscape together. The smooth, rounded shape feels naturalistic yet refined.
6. Use Large Boulders as Focal Points
Incorporate a few oversized boulders to create focal points in your front yard landscape. Boulders draw the eye with their bold shape and presence. Arrange them in key spots you want to highlight. Combine with grasses, shrubs and mulch beds.
7. Accent With Gravel Garden Paths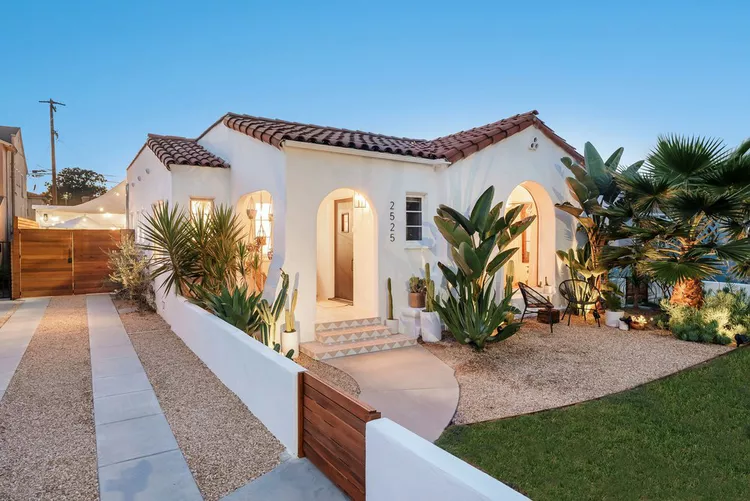 Winding gravel garden paths make for an intriguing landscape feature. The crunchy gravel also creates textural contrast from the lawn and garden beds. Use landscape edging to keep the gravel path contained. A focal boulder draws attention.
8. Go for Drama With Stacked Stone Walls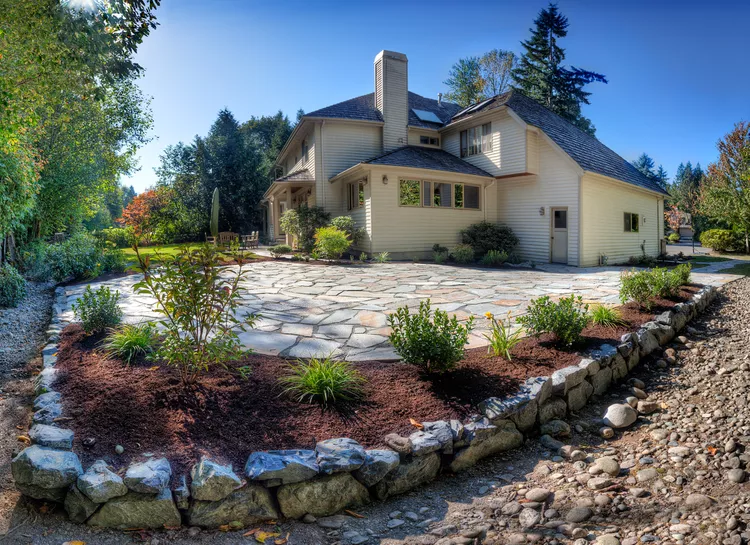 Stacked stone walls look striking when incorporated into landscaping. Use them to edge planting beds, divide spaces, or frame the yard as seen here. The linear pattern adds geometric structure as well. Choose locally quarried stone for a natural look.
9. Softscape With Blue Rocks
Soften the hard lines of your home with blue decorative rocks. Their cool tones are calming and complement foliage. Use the rocks as edging and scatter them throughout garden beds. Blue rocks also parallel a blue front door.
10. Create a Rock Garden
Rock gardens are on-trend for their minimal maintenance and natural beauty. Arrange rocks of different sizes, shapes and colors for visual diversity. Leave some open space between rocks to allow for soil and short native plants. Go for a pleasing design.
11. Use Large Pavers as Stepping Stones
Guide guests to your front door with oversized natural stone pavers serving as stepping stones. Their substantial size makes a statement while providing safe footing. Keep them in a narrow pathway through lush garden beds and lawn.
12. Add Warmth With Desert Landscaping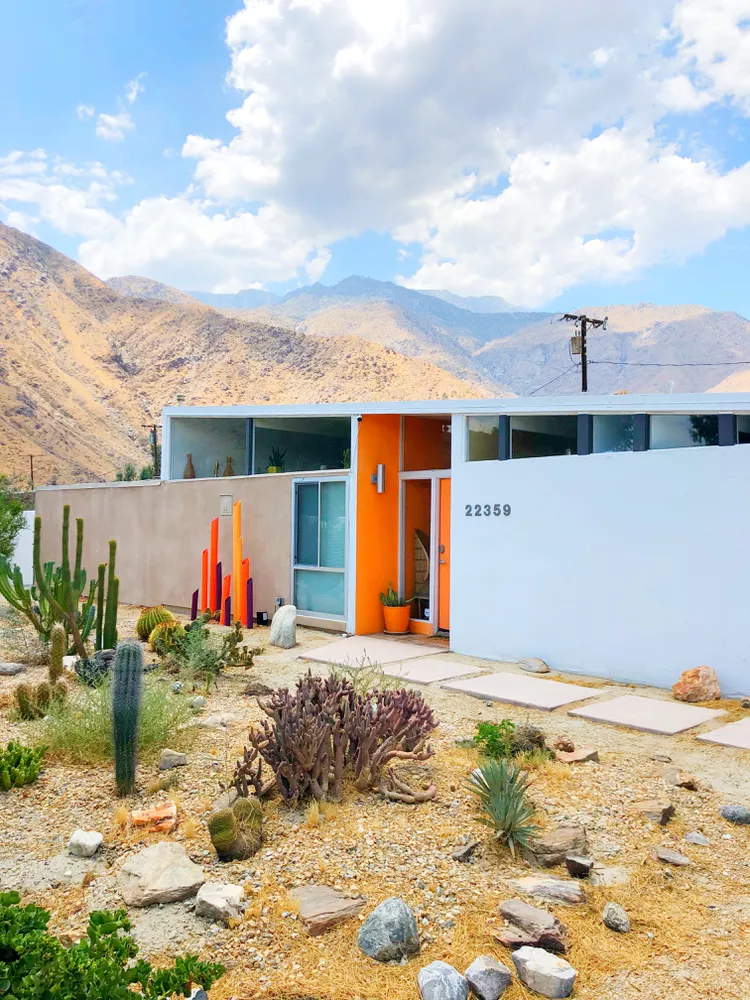 In arid climates, incorporate desert landscaping with rocks, gravel, cacti, and succulents. Mix various rock sizes and colors for warmth and texture. Keep the palette natural using earth tones with pops of green from drought-tolerant plants.
13. Line the House Foundation with River Rock
Using river rock to line your home's foundation disguises the foundation itself while complementing the architecture. The neutral brown stones blend with the exterior while the organic shapes soften the home's lines. A neat edge keeps them contained.
14. Go Monochrome with White Quartz
For a contemporary look, opt for visually clean white quartz gravel as a neutral base. The white rocks act as a canvas to let colorful plants make a statement. Their monochromatic color ties everything together elegantly.
##15. Add Whimsy with Painted Rocks
Personalize your landscape with painted rocks mixed in. Go for fun patterns, your home's address number or names of family members. Incorporate the painted rocks along borders, in flower beds and surrounding trees. They show personality.
16. Pair Purple Rocks with Lavender Plants
Choose rocks in harmonizing shades of purple and pair them with flowers like lavender and salvia for a cohesive color scheme. The purple tones are soothing and sophisticated. Scatter the rocks throughout for a pulled-together look.
17. Contrast Rocks with Green Foliage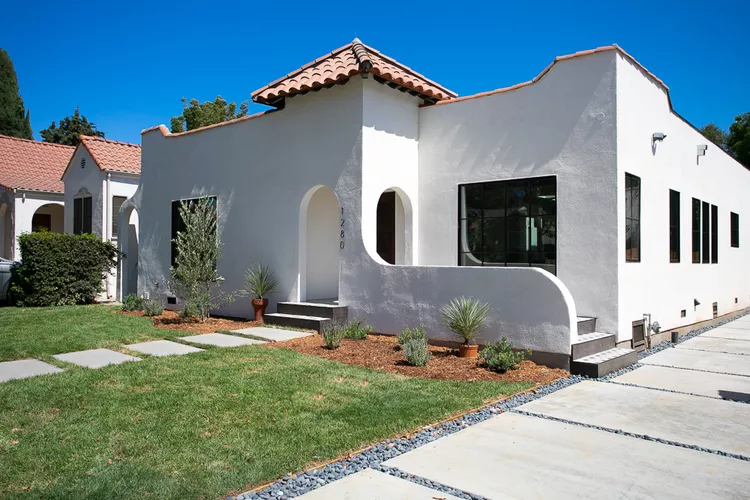 Variegated leaves, feathery grasses and other green foliage look extra vivid when contrasted with grey and earth-toned rocks. The green really pops against neutrals. Use smooth, rounded rocks to complement the plants' organic shapes.
18. Go for Multi-Colored Mosaic Rocks
For serious curb appeal, opt for multi-colored mosaic garden rocks. Their patchwork colors inject vibrant personality into your landscape. Use them as edging, pathways or decorative ground cover. They also pair well with colorful blooms.
19. Create Seating Areas with Boulders
Large boulders can double as unique garden seating when arranged in clusters. Their natural look is inviting and they provide built-in spots to relax outdoors. For comfort, top the boulders with cushions that complement your color scheme.
20. Use White Rocks to Brighten Shady Areas
Bright white rocks reflect light, helping to brighten shady areas of your landscape. Use them under trees, by your home's foundation and in other dim spots that need a pick-me-up. Dress them up with ferns, hostas and other shade-loving greenery.
21. Complement Architecture with Modern Rock Beds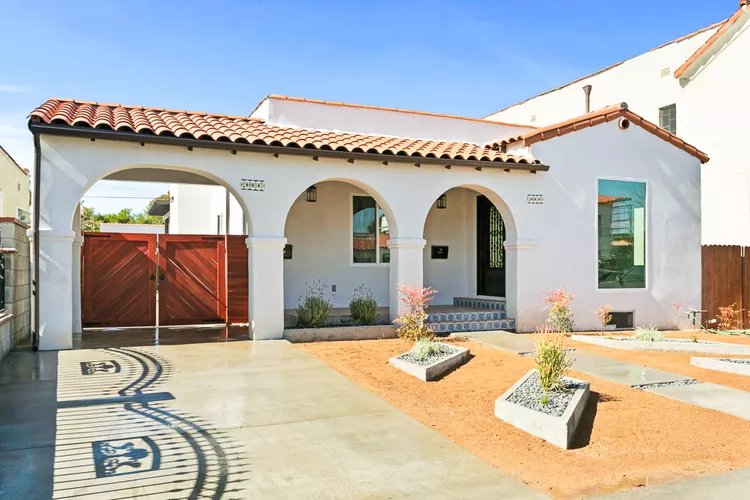 Clean-lined, organic shaped boulders and rocks match well with modern architecture. The simple rock compositions mirror mid century and contemporary home styles. Allow some open space between rocks for a minimalist look.
22. Add Rock Wall Planters for Vertical Greenery
Rock wall planters merge the beauty of rocks and plants. Stack rocks securely, leaving room for soil and plants in the openings. Then plant cascading greenery like ivy or succulents. The wall lifts plants up for vertical interest.
23. Use Rocks for Drainage in Rain Gardens
Rain gardens use water-loving native plants and rocks to soak in runoff. The rocks improve drainage while adding organic-looking texture. Use river rock and pea gravel around plantings. The rocks move and shift with the water flow.
24. Combine Large Pavers and Pebbles
Bluestone pavers leading to the entry make a bold